Himalayan Yogshala Just Don't Teach Yoga We Build A Bond With them 
Ive been to many yoga retreats n festivals , n studied under many teachers. Rana Ji stands out as one of my favorite ! He seems to instinctly know just what asanas u need in in those cold wintry rishikesh mornings wen u don't feel like getting out of bed, and also wen to push u just a little bit more, to push ur limits. I love his teaching methods, that he incorporates the teachings of guruji iyengar in his hatha classes. And plus, rana ji is genuinely a really really nice guy. highly recommended!
More then one year is gone, but I clearly remember thetime when I've been practicing yoga with Sabbal Rana!
The contemplative look to everyone and very kindness heart of this man appears now,, when I write this memories. I had to translate some of Sabbals classes and as soon as I've begun, I've understood, that it isn't possible, just to translate and not to do yoga with him!!! Very simple instructions and advises have made the people believe in their power. I miss his classes and I hope to get to India until this year and take part at least in his sun-salutation class. OM
I think we got very lucky when Sabbal came to Ukraine. It was a big chance for all of us to get to know him and his ways of teaching yoga. It is a very balanced, diverse and at the same time profound work that made us all feel better. If you go to his classes, your whole day will be peaceful and full of harmony. Sabbal has an incredible talent to explain difficult things in simple language and not loosing the essence of yoga.
With great respect and love I thank Sabbal for the happy hours of practice with him.
I experienced Sabbal Rana as a very great yoga teacher, i recommend his teaching with all my heart.
i fo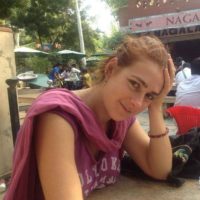 und him to be a very energetic, joyful and caring teacher. i always felt he teaches with all his heart. fully present with the students, fully present in what he is teaching, and that makes the class very lively. He can take the class to different directions, sometimes intensive and some times deep and peaceful. Rana makes the assanas be more then just body exercise, he gives the student inspiration how to take the yoga assanas into the different situations in life.
Loved your classes! The energy, the knowledge and variety of styles are unique. Learned a lot and gained a better understanding of my body. Deeply appreciate and recommend you to everyone. Thank you!